The flyer mission has now been completed and the SAR Dogs Nepal team has returned safely. We have received a report from Karna and would like to share this with you. The photos are made by Karna himself. SAR Dogs have been in different villages nearby and on the Dhaulagiri and have come to something after Italian Basecamp (over 3600m).
People involved from SAR Dogs Nepal (in random order): Jit Bahadur Masrangi Magar (director), Laxman Chaudhary, Karna Bahadur Dura, Bikram Ranabhat and porter Man Bahadur Gharti. And also Prinsa, 7 month old labrador.
Day 1:
On May 24th, SAR Dogs Nepal Team drove to Beni from Pokhara. The team met with police S.I. Hira Thapa Magar at District Police Station, Beni and updated about Christiaan's case and also gave some flyers. He told us that he will spread flyers among other police posts. After this we drove up to Tatopani. On the way we gave flyers to the locals, students and hung flyers in public places and houses. After lunch in Tatopani, we drove to Dharapani (before Takam), spread flyers to the people and hung on wall of the houses, spoke with locals if they have found some stuffs as seen on flyer. After this we drove to Takam and met with Police from Police Post, Takam. Most of the police from this region were new so didn't know much about Christiaan. After conversation with Takam police we headed to Muna Village. We spread some flyers to the youth whom we met at school of Muna Village and to the locals.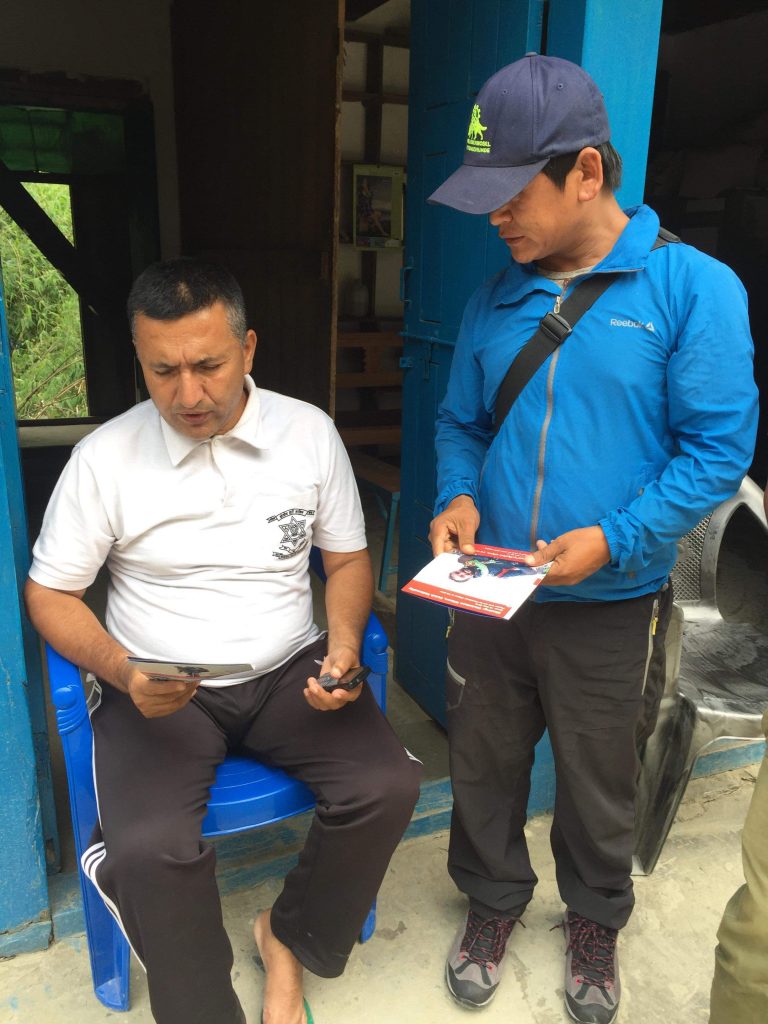 Karna (right) with a policeman of Tatopani
Day 2:
We drove next to Mudi Village where the new road ends then the team splitted. Jit and Laxman drove back to Pokhara and Karna, Bikram and Porter continued their way towards Mudi Village. After walking for an half and hr we stopped at Mudi Village. We spread flyers to the people we met. We also met with a German guy and gave him the flyer. He was planning to go back to Darbang. We had only very short talk with him because he only asked us for the way to Darbang. From Mudi, we continued going towards Naura. We stopped at Naura for Lunch. We gave some flyers to the owner of Naura hotel so that he can also spread flyers to other people. After lunch we started going. We reached Bagar and planned to stay there. We visited other houses in that area and spread flyers.
Villagers from Mudi looking at flyer hung on Wooden wall of a small local shop.
Day 3:
We started going towards Doban. We knew that the hotel in Italian Basecamp is still opening because there are more than 55 people are constructing the foot trail up to Swiss Camp. We talked with people we met with, spread flyers to them. We stopped at Dhapcha for lunch. The weather was bit bad. It was slightly raining before we reach Doban. We reached Doban and stayed there that night.
Day 4:
We moved towards Italian Basecamp. The weather on this day was good. We found that the river's water level was high as compared to last time. Though the locals repaired the foottrail, in some places it was damaged by the rain water. We stopped before Sallaghari where we met with a local Buffalo Herder. We gave him flyer and asked him if he or other people from that area found some stuffs as shown on picture on flyer. He didn't heard or found anything.
Local Buffalo Herder next to Sallaghari area where we stopped by for short break.
Italian Basecamp
After a short break, we walked towards Italian Basecamp. We reached Italian basecamp around 1:30 PM. After a short rest, we walked towards Swiss Camp to see the area. Unfortunately weather became worse, started raining so we returned back to Italian basecamp. But we took several pictures from below Swiss camp.
Landslide area just above Italian camp with new route.
The river view below Swiss camp with new foot trail
The locals made the route much better than before and in some parts they had changed the route. We met with all the locals in the evening. We gave flyers to them and told about Christiaan and what he had brought with him for the expedition.
Locals at Italian basecamp gathered in the evening after they returned back from work.
We talked with the owner from the Italian Basecamp. He told us that there had happened an accident last October. A Nepali porter fell down from the Icy cliff which is below Japanese camp and washed away by the river. He was recovered only after a month nearby Swiss camp. The body was stuck in between two big stone and the Helicopter came and took him to Kathmandu. We found much snow this year in this region. The owner from the Italian Basecamp said that there is much snow above Swiss camp. We also noticed that there is much ice above the river next to Italian camp.
Day 5:
We returned back from Italian Basecamp. We came up to Bagar on that day. On the way we met with other Indian tourists. We told them about Christiaan too so that they can look around for Christiaan's belongings. We stayed at Bagar.
Day 6:
We moved down towards Naura from Bagar. We met with a family from Mudi who went for collecting Yashragumba (Himalayan medicinal herbs) in the Himalaya. We informed them about Christiaan too. At Naura we had our lunch then continued till Kaleni and stayed there. On the way we met with several people from these areas so informed them about Christiaan and his belongings. Most of them knew about this case.
A couple who were returning to their home after collecting Yashragumba got our flyers.
Day 7:
We walked towards Darbang. We spread flyers to the people whom we met on the way. We reached Darbang and went to the Police station. We gave the overleft flyers to them so that they can spread to the locals too. The officer was happy to help us. From Darbang we drove by local taxi to Tatopani and then had our lunch. Then we went by Taxi to Beni and visited the Beni Police Station again. We updated them about Christiaan after this we drove to Pokhara by our jeep.
Conclusion:
While we were talking about Christiaan and his belongings to the locals, some locals advised us if we can provide rewards incase someone find belongings of Christiaan. There may also come legal issue regarding the stuffs finding. People may become victim of it so mostly don't showed interest in search of the stuffs while they are on their daily life work around that area, specially the river banks. But some said that they will inform Beni police or to SAR Dogs Nepal if they find any stuff related to Christiaan. We hope this may bring positive result sooner or later.
Links to earlier posts on this website about the area: